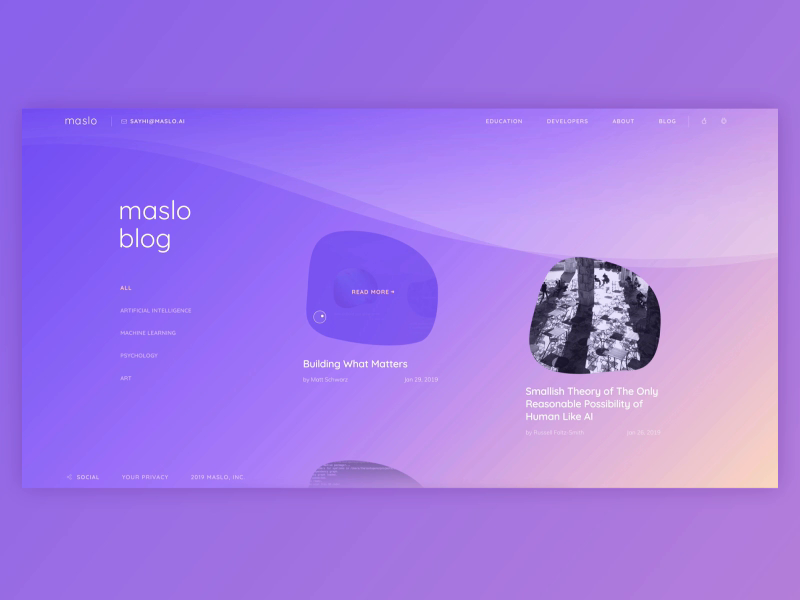 Hello friends!
The website we created for Maslo, an AI-based digital companion is now on Awwwards, CSSDA and FWA and needs your support! This is the Blog page of the website with a system we developed to automatically pull content from Maslo's Medium page.
🤞 Support us on Awwwards!
🤞 Support us on FWA!
🤞 Support us on CSSDA!
Maslo is a digital friend, a voice journal with personality and smarts, a personalized AI technology, a Siri for self care, whatever you want it to be. Right now it's an inquisitive child, it learns from the user by asking questions, eventually helping it develop into an adult and each user's buddy. In turn, the user will develop their own knowledge and realize their potential. What it lacked after being brought to life by Ross Ingram and Cristina Poindexter was a vehicle in which to set forth — and so our job was to create first a mobile app, and then a website, with which to introduce Maslo to the world, and the world to Maslo.
Here's an article that takes you backstage to show the website creation process and tell you more about the product.
Press "L" to show some love!
ᗈ Join our Newsletter!
ᗈ Website
ᗈ TheGrid
ᗈ Spotify
ᗈ Twitter
ᗈ Medium
ᗈ Facebook
ᗈ Instagram